Water plants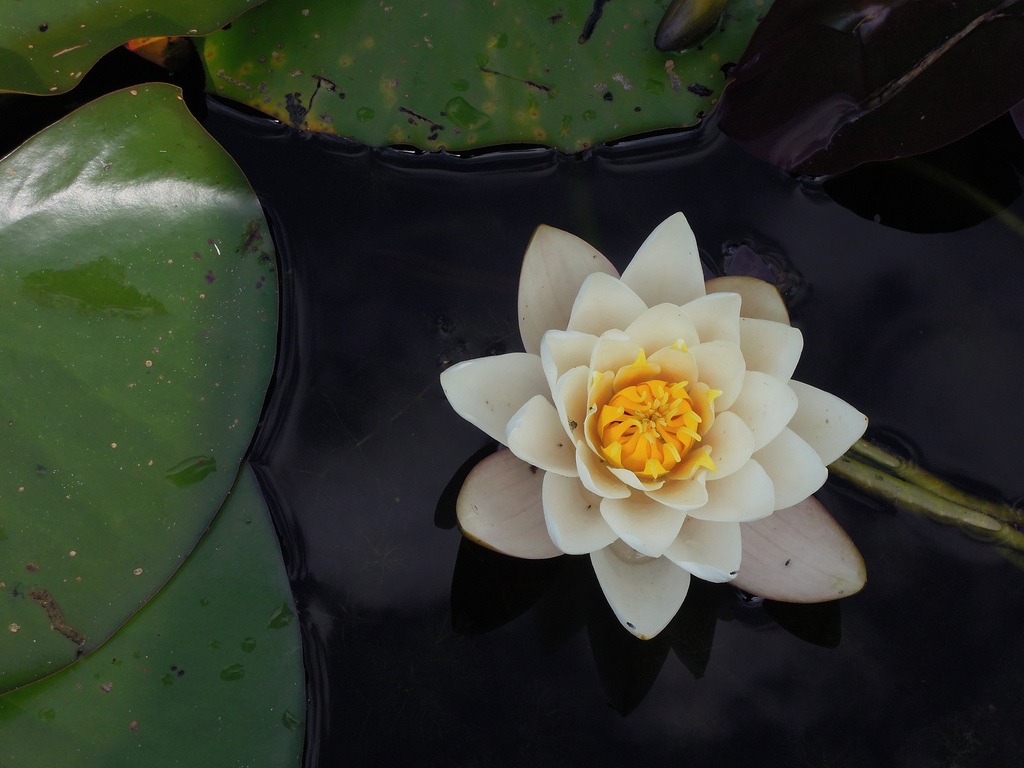 Suitable for Canberra
Our Water plants are now back in!
The following list of water plants includes those varieties that BruceWorks usually stock (with new stock generally arriving in spring). All have been selected for their hardiness in Canberra conditions. When planting a pond, each different type of water plant has a specific depth of water that it should be grown in.  Ring us for more details.
Water plants starting from $24.95.
Note: Some water plants are hard to get, please contact us for availability
Descriptions
Water plant description
Amazon Queen
Alocasia amazonia
• Type: marginal – emergent
• Prefers semi shade (frost tender)
• Grows in wet or damp areas – may go dormant in winter
• Yellow flowers in late summer
Bacopa
Bacopa monniera (Australian native)
Type: submerged – free floating
• Tolerates full sun or part shade
• Grow wet, damp or fully submerged
• Small blue flowers from summer to autumn
Blue Sedge
Carex riparia
Type: marginal – emergent
• Tolerates full sun or part shade (frost hardy)
• Grow in pond – wet or damp position
• Black flowers in summer
Duck Weed
Lemna Species
Type: free floating
• Tolerates full sun or part shade (frost hardy)
• Grow in ponds in wet position
• Forms a thick floating carpet over water
Dwarf Papyrus
Cyperus prolifer
Type: marginal – emergent
• Tolerates full sun or part shade
• Grow in ponds – wet or damp position
Dwarf Water Bamboo
Phalaris arundinacea picta
Type: marginal – emergent
• Tolerates full sun (frost hardy)
• Grow in wet or damp soil
• Can grow to 1.5m but is kept smaller in pots
Fairy Fern
Azolla Species
Type: free floating
• Tolerates full sun or part shade (frost hardy)
• Grow in ponds – forms a thick floating carpet
• Good food source for some birds
Golden-eyed Grass
Sisyrichium californicum
Type: marginal
• Tolerates full sun or part shade (frost hardy)
• Grow in a wet or damp position
• Yellow flowers all year round
Green Goddess
Zantedeschia aethiopica
Type: marginal emergent
• Tolerates full sun or part shade (frost hardy)
• Grow in ponds or moist well drained soil
• Large green/cream flowers all year round
Japanese Water Iris
Iris laevigata
Type: marginal – emergent
• Tolerates full sun or part shade (frost hardy)
• Grow wet, damp or fully submerged
• Flowers inspring/summer
Juncus
Juncus Species
Type: marginal – emergent
(Australian native)
• Grow in full sun (frost hardy)
• Grow in ponds – wet or damp position
Loosestrife
Lythrum salicaria
Type: marginal – emergent
• Tolerates full sun or part shade (frost hardy)
• Grow in ponds – wet or damp position
• Bright pink to red flowers in summer
Moses in a Basket
Tradescantia X Andersoniana
Type: marginal – emergent
• Tolerates full sun or part shade (frost hardy)
• Grows a wet or damp position
• Flowers in summer
Nardoo
Marsilea mutica (Australian native)
Type: submerged – floating – marginal- emergent
• Tolerates full sun or part shade (frost hardy)
• Grow in ponds – wet or damp position
Papyrus
Papyrus antiquarium
Type: marginal – emergent
• Tolerates full sun or part shade (frost tender)
• Grow in ponds – wet or damp position
• Height to 3 metres
Pickerel Rush
Pontederia cordata
Type: marginal emergent
• Will tolerate full sun or part shade
• Grow in pond – wet or damp position
• Stunning blue flowers in summer
Sarracenia
Sarracenia Species
Type: marginal
• Tolerates full sun (frost hardy)
• Grow in ponds – wet or damp position
• Stunning flowers in spring/summer
Swamp Stonecrop
Crassula helmsii
Type: submerged – floating
• Tolerates full sun or part shade (frost hardy)
• Grow in ponds, wet, damp or submerged
• Tiny white flowers in summer
Sweet Flag
Acorus gramineus
Type: marginal – emergent
• Tolerates full sun (frost hardy)
• Grow in ponds, wet or damp
Tall Spike Rush
Eleocharis sphacelata (Australian native)
Type: marginal – emergent
• Tolerates full sun or part shade (frost hardy)
• Grow in ponds, wet or damp
• Foliage provides excellent cover for waterfowl
Water Hawthorn
Aponogeton distachyos
Type: submerged – floating
• Tolerates full sun or part shade (frost hardy)
• Grows fully submerged
• White perfumed flowers most of the year
Water Iris
Iris ensata
Type: marginal – emergent
• Tolerates full sun or part shade (frost hardy)
• Grows in ponds, wet or damp
• Flowers in spring/summer
Water Lily
Nymphaea
Type: submerged – floating
• Will tolerate full sun (frost hardy)
• Grow in ponds
• Produces flowers spring-autumn in full sun
Water Milfoil
Myriophyllum papillosum
Type: submerged – floating
• Tolerates full sun or part shade
• Grow wet, damp or fully submerged
• Excellent for spawning and protection of goldfish
Water Plantain
Alisma plantago aquatica
Type: marginal – emergent
• Will tolerate full sun or shade
• Grows in ponds, wet or damp position
• Dainty white flowers on tall spike in summer
Water Poppy
Hydrocleys nymphoides
Type: submerged – floating
• Grows and flowers in full sun or shade
• Grows in ponds
• Yellow flowers in late summer
Water Ribbon
Triglochin procera (Australian native)
Type: submerged – floating
• Tolerates full sun or shade
• Grows in ponds – wet or damp position
• Tall emergent green flowers in summer