Retaining wall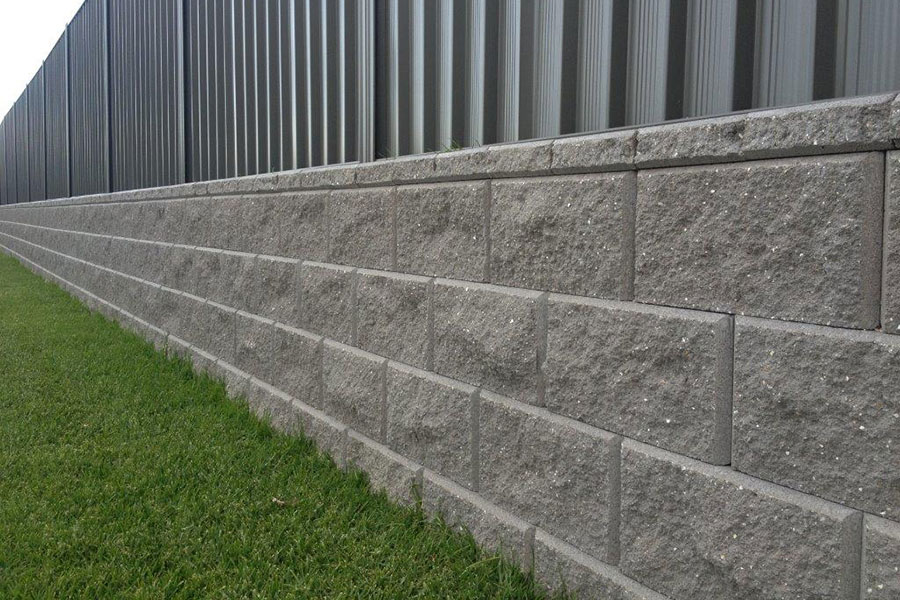 A range of systems
BruceWorks current features a range of quality retaining wall systems – including the Norfolk, Tasman, Bessa and Gardenstone Systems from Baines Masonary.
Norfolk block system
The Norfolk™ retaining wall block system is an attractive Interlocking Wall System which has the natural look of quarried stone and blends into any landscape situation with its sculptured rock face texture.
Developed specifically for retaining walls the Norfolk™ Blocks can be built straight, curved or terraced to fit into the contours of the embankment.
Each block is made of high strength, permanent low absorption concrete which makes them very solid and virtually maintenance free
Tasman retaining wall system
The Tasman™ retaining wall system incorporates purpose made corner and capping units to provide classical reconstructed sandstone retaining walls.
The unique design of the Tasman™ wall system allows increased flexibility over competing products. Curved or straight walls can be erected and it is easy to build 90-degree corners with the purpose made corner blocks. A capping unit is adhered to the top course of blocks to finish off the wall.
Gardenstone
Gardenstone blocks are approximately 60% smaller than the Norfolk blocks, with 35 blocks per m2. Gardenstone blocks are made with hollow blocks for the bottom courses, lighter and easier to handle, and with a solid capping block.
The smaller size of the blocks makes them ideal for lower retaining walls and garden edging and more suitable for tighter curves than other products.
Norfolk
Product description
each
Norfolk Block 390x190x180mm
$10.95
Norfolk Capping 390x190x180mm
$10.95
Note: 14 Units Per m2 – 2.56 Units Per Lineal Metre
Tasman
Product description
each
Tasman Wall Block 390x225x200mm
$14.95
Tasman Full Corner Block 150x340x200mm
$13.95
Tasman Half Corner Block 150x140x200mm
$9.95
Tasman 200mm Cap Block 195x230x60mm
$5.95
Tasman Full Cap 240x60x390mm
$14.95
Note: 13 Units Per m2 – 2.56 Units Per Lineal Metre
Bessa Blocks
| | |
| --- | --- |
| Product description | each |
| Bessa Blocks Full 390x190x190mm | $4.95 |
| Bessa Full Caps 390x190x40mm | $4.95 |
| Note: 2.56 Units Per Lineal Metre | |
Gardenstone Garden Edging
Product description
each
Gardenstone Hollow 240x190x120mm
$7.95
Gardenstone Cap/ Full block
$7.95
Note: 35 Units Per m2 – 4.1 Units Per Lineal Metre
* Prices subject to change without notice, not all products and colours are held in stock so please contact us to confirm.